An Invitation to Meat with Friends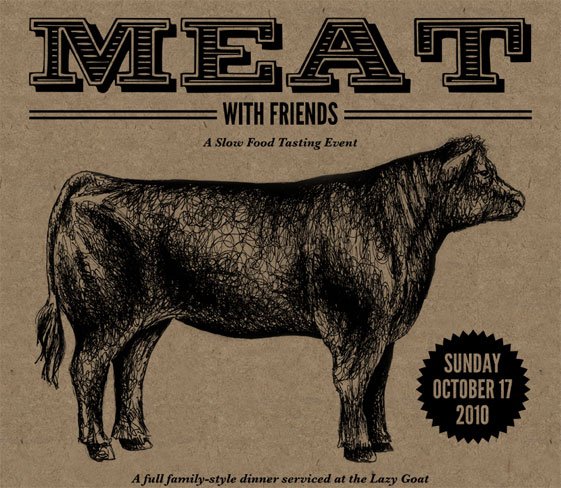 Have you ever applauded a perfectly cooked cut of meat? Stood up and cheered the look, aroma, and taste of a wonderful, locally sourced pig, cow, lamb or goat.
Me neither, but damn it, that sounds lovely. Let's see if we can't achieve this zen like level of bliss while also enjoying some delightful, non-meat sides and a pecan pie cheese cake dessert this Sunday at the Lazy Goat.
Slow Food Upstate is putting on a tasting event this Sunday that includes six different locally sourced meats as both the main course and tasting menu.
For the full menu and to register to attend ($40 a person)
If you can't make it, but know someone that could then please pass the word along.
So, to recap:
Who: You and all your friends, business associates, and enemies
What: A meat tasting and dinner
When: Sunday October 17th from 630pm to 930pm
Where: The Lazy Goat
Why: Meat tasting- the tasting of meats. I'm not sure I need to explain more. In case I do, part of the ticket price goes to help fund Slow Food Upstate programs. The rest goes to paying for the wonderful food.
How: Register now
Notes and various sundries:
Some folks also got a Facebook message from me on this subject. I'm sorry for the spammy nature of sending two similar notes a day apart, but honestly Facebook is crap. I needed to write more about the meat tasting than Facebook would allow. Besides spam is a meat too. Sort of.
Also, we're printing a small run of posters for this event. If you'd like a poster to hang up in a very prominent place. Let me know.
For those interested in doing something fun on Friday night may I suggest the Red Shoe Society's James Bond themed event, From Greenville with Love