Epilogue to Getting Dugg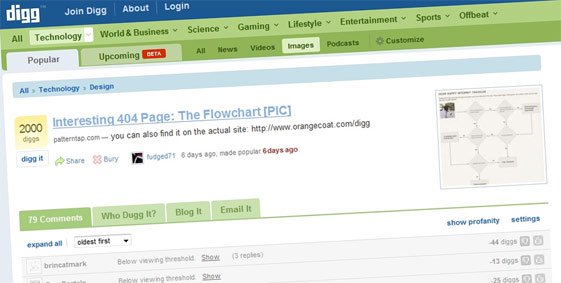 A little over a week ago the design for OrangeCoat's 404 error screen made it to the front page of Digg. Over the last week, the number of diggs has grown to over 2,000. From the initial Digg-frenzy to the steady increase to 2,021, it was a unique experience that helped us to get a better grasp of how Digg effects web traffic, servers and our own internet popularity.
Time line of the first 24 hours:
6:00pm: A quick after-dinner check of Twitter included a tweet from CDMwebs:
@agautsc you guys got dugg http://tinyurl.com/5alj69
"Sweet," I say. And off to the races we go. About halfway down Digg's home page is our 404 page with the simple headline, "Interesting 404 Page: The Flowchart [PIC]". The story has a couple hundred diggs and I'm pretty pumped just to be on the home page for any amount of time.
6:05pm: I send an email off to Evan, Jim, and Matthew. After all, it isn't our 404 page that got dugg, Matthew's wonderfully helpful and popular website, PatternTap, is where our 404 page was found and the PatternTap page is what is being linked via Digg.
6:10pm: I tweet:
Thanks to @patterntap OC's 404 page got to the front page of digg this afternoon. http://tinyurl.com/5alj69 & thanks to @cdmwebs for tweetin
From there, we received a couple emails, text messages, and IM's from friends congratulating us. It's very cool and a little strange to get the congratulations. After all, we didn't submit the link or even pub it on our blog. The design is something Evan dreamed up, designed and wrote in an afternoon during OCHFWD back in February. We hadn't thought much about the page since. I mean, the goal is for people NOT to find a 404 page. Still, it's the most feedback we've ever received from a piece of OrangeCoat press and we're happy people are noticing.
Even more encouraging are some of the comments left on the Digg page.
Nouman6 posts:
check out this page: https://www.orangecoat.com/work/client-list
and hover over a client :)
some unique things here.
and MalDON posted:
After looking through their site, I think I found the company to send my next design job to. Although it probably would have been more useful to link some of those flowchart steps to places on the site.
It's nice to see people leaving the 404 page heading to important pages like the portfolio page and enjoying the work they see.
7:30pm: Happy with the 390 Diggs, an hour on the home page, and some great comments a couple of us headed off to Pineapple Express. When I got home, the diggs have more than doubled and we are still on the home page. This time in the upper right for "Top in All Topics." Rock on.
11:30pm: When I go to sleep it's over 1,000 Diggs.
The Digg Effect
What did all these Diggs mean in terms of traffic? In the first 24 hours we got a fair amount. Over 11,000 unique IP's and over 27,000 page views. However, these traffic numbers pale in comparison to PatternTap's.
As tweeted by Matthew:
Pattern Tap has been seriously DUGG. And yet, we stand! Yesterday almost 50,000 unique IPs. Cuckoo!
And how did the OrangeCoat site handle this spike in traffic? Pretty darn well.
Jimmy C.'s take:
Kudos to Drupal's built-in caching and CSS aggregation. Add gzip compression and some other performance best practices and a 256 MB VPS can really hold its own. Even still, the OC server will become more capable as we continue sprinkling in advanced optimization methods across the LAMP stack.
The rise from 1000 to 2000
Over the next week the Diggs continued to grow and links to our 404 page design started getting mentioned on other blogs, tweets and the like. Here are a couple items of note.
404. How fitting.
We do our best to focus on the details that go unnoticed 99% of the time. Even if it doesn't make a difference to the client, it makes a difference to us. It's rewarding, maybe a little vindicating, to be noticed for something that generally goes ignored.