HAPPY HALLOWEEN and RIP IE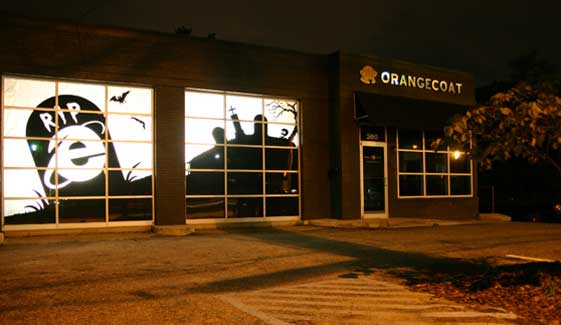 OrangeCoat's World Headquarters is a renovated service station located on Stone Avenue in Greenville, South Carolina. Like most service stations of a certain time, there are two big garage doors covering a large portion of our building. From now until All Saints Day, these two doors have transformed into a canvas for some scary Halloween art.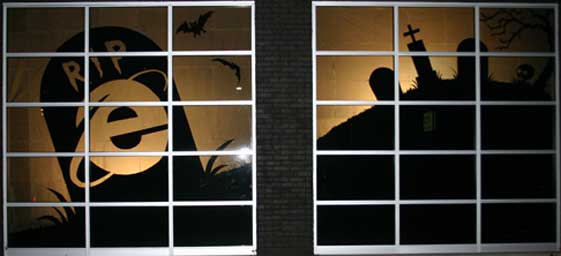 IE be used, Nevermore
Internet Explorer 6 is a super villain robot-zombie Freddie Kruger styled monstrosity. It needs to die. Even though Internet Explorer is now on version 8, over-worked IT departments and unknowing web users have not updated their copies of IE. Still having to code for IE6 causes the web development world to howl with pain and spew cursed words. IE6 is an old browser. It's old technology and it needs to die—today1
Change Your Evil Ways
If you use Internet Explorer please update immediately.
If you work in an IT department, be kind to your company and the internet in general and update to IE8.
If you really love the web community and yourself, try a new browser
Either browser is a treat to use. They're fast, stable, and secure. Give 'em a shot, and let us know what you think.
Still need more convincing? Don't take our word, let the internet help ring the death knell
Back to The Window
Wow, sorry about that rant. We tend to go into a bit of a trance of anger when we speak of IE6. But the window display is supposed to be scary or cool or scary-cool on levels. The IE gravestone is clearly the star of the show, but it is not the entire show. It's a complete graveyard replete with bats, gravestones, and skulls—oh my.
Please drive on by if you're in the neighborhood. We'll have the lights on from 7:10 to 2:10 every night until November First.
For more photos, including a couple of behind-the-scenes and making-of shots, check out our Facebook page.
Oh and by the way, Happy Halloween.
Footnotes and other various sundries
IE was released in 2001. How many people still have the same cell phone, TV, or even car they had in 2001? (back)