Yes, We Can Keep Existing AT&T Unlimited Data Plans on Amazon - 2014
UPDATE: As of June 2019, I started using Mint Mobile because they offer an unlimited service (I'm using 3GB of LTE speed) for as little as $15/month when you pay for 12 months in advance.
Mint runs on T-mobile's network so most BYO (bring your own) GSM-based phones are compatible with their plans. The only downside I've seen is if you exhaust your LTE data then the throttled 3G speeds seems really slow, like even slower than Cricket's throttled speed. It's still enough to check emails and websites without many photos, but you're not going to stream video or visit eBay listings without waiting. Again, this is only if you go over your monthly LTE cap. If you go over you can easily text UPDATA to them to add 1GB for $10. I purposely went over my limit and survived for 5 days with the throttled speed.
UPDATE: As of July 2016, I found the best plan for me was to go with Cricket Wireless unlimited call, text, and data. You can bring your own device to Cricket. The plan I'm on is $35 (after $5 auto-pay discount). It uses the same AT&T cell towers and the only catch is that if I use the first 2.5 GB of LTE and then speed slows down to 128Kbps until the next month starts. They offer higher limits if you use a lot of data.
UPDATE: As of Feb 2016, AT&T is raising the price of their unlimited plan by $5. The letter I received says I'm able to break my contract within two months of the new price (unlike AT&T Next plans) without an early termination. I'm most likely going to jump over to a pre-paid provider with unlimited text, call, and data for a much cheaper rate. Many of them allow you to bring your own device.
For those AT&T "OGs" with a grandfathered SMT PERSONAL unlimited data plan, here is proof as of September 2014 that ordering via Amazon will retain your existing data plan. Albeit, you may have to deal with not having a data plan for up to 10 days, like I did..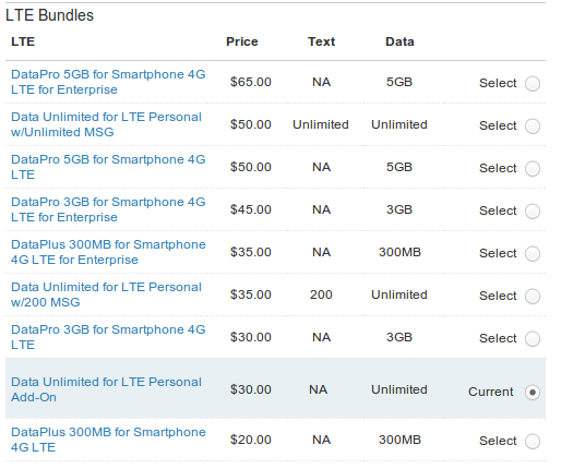 AT&T, Evil or Incompetent Customer Service, That is the Question
This turned into a mini-saga. I activated the upgraded phone on Sept 24, 2014. Calling worked, but I didn't notice until Sept 26 that I was not connected to the 4G LTE mobile data network. I didn't notice because I was on Wi-Fi everywhere I was using it, and I wasn't familiar with the new device's icons. I checked my AT&T profile on their website and I have no data plan at all.
I called AT&T and they agreed this is not my fault and said they will get my unlimited plan back on my account. They gave me an estimated called back of Oct 7th. Yes, that's 10 days to call back and add my data plan back. Smells like they want customer to get frustrated and pick a new plan.
I bickered at AT&T Twitter support and they did nothing except try to justify why it takes up to 10 days. At one point, I realized the Oct 7th max date was the 15th day after ordering the phone, potentially leaving me with little or no time to cancel the plan if they didn't resolve the problem.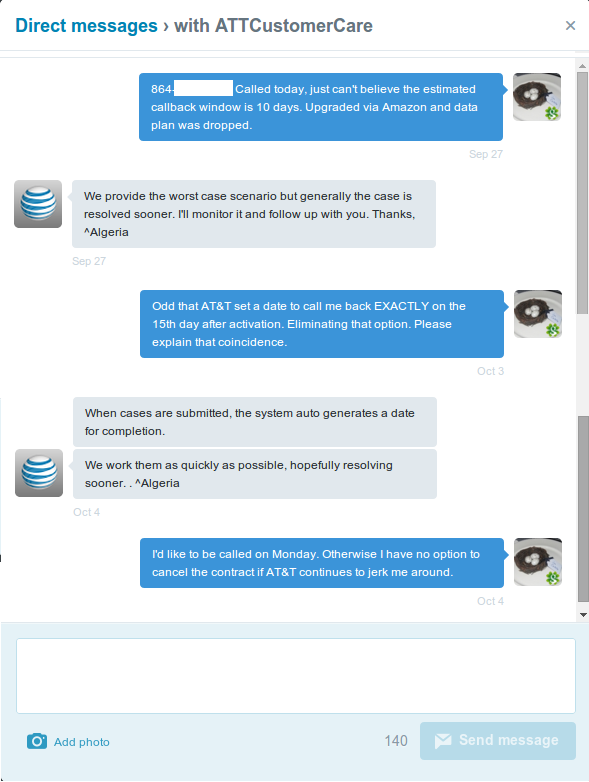 On the 9th day after calling, I received a text message saying the unlimited data plan was added back.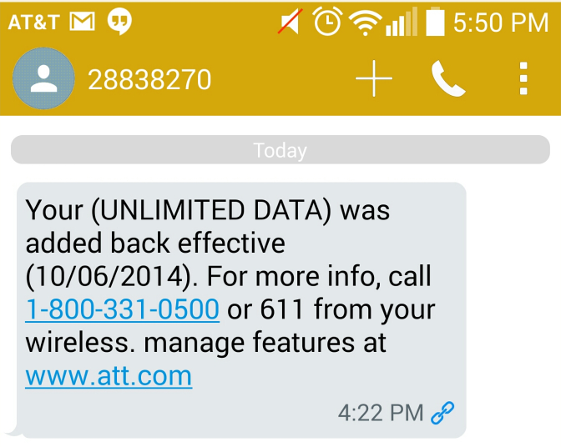 I have trouble believing AT&T's has such a backlog of work that it takes 10 days to fix a billing issue that leaves the customer without a data plan. Any sensible company would see that bottleneck and fix it. It's actually really stupid, because they actually lost money when I didn't have a plan for 9 days. So, it leaves you to wonder if they are attempting to frustrate customers into signing up for a lesser, much more expensive Mobile Share plan.
Plans On Amazon
On the Amazon side, it's easy with a 2-year agreement. Also, if you select AT&T Next 12 or 18 upgrade options it shows the same option to keep your existing old data plan. I did not test the Family Plan option (don't have one), but if you click through to the second step it should be fairly obvious if you're able to keep a family plan.
Why Not Go to the Store
The LG G3 I just got was $199 in the store and $49 on Amazon. So, saving $150 is worth going via Amazon. Amazon also ships new phones via Two-Day Air (upgrading to Next Day Air was $11.98). Both AT&T and Amazon will charge the same additional $40 upgrade fee on your first month's bill.
The Steps = Straightforward
Find an AT&T phone - select to upgrade your existing Individual plan
Add to Cart
Select Plan
Skip Accessories Page (optional)
Sign-in
Upgrade Eligibility Check Occurs - makes sure you're not under a contract
Select a Payment Method
Select a Shipping Address
I selected the options shown in the screenshots below. The plan selection page, cart, receipt, and email all show "keep existing plan".
Add to Cart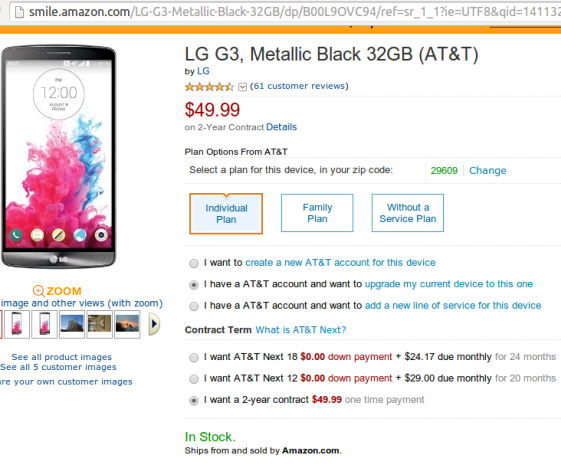 Select to Keep Existing Data Plan
In my case the "SMT PERSONAL" is the code for the old Smartphone Personal unlimited plan, which is $30/month. The $39.99 is my 450-minute call plan. I don't have text messaging enabled, hence it shows "$0" for my pay per message SMS plan.
In the Cart
Terms and Conditions
In the last step there is a pop-up link to AT&T's terms and conditions. Section 6.2 further confirms that existing unlimited data plans my be retained, albeit with the normal restrictions.
Unlimited Data Customers. If you are a grandfathered AT&T unlimited plan data service customer, you agree that "unlimited" means you pay a fixed monthly charge for wireless data service regardless of how much data you use. You further agree that "unlimited" does not mean that you can use AT&T's wireless data service in any way that you choose or for any prohibited activities, and that if you use your unlimited data plan in any manner that is prohibited, AT&T can limit, restrict, suspend or terminate your data service or switch you to a tiered data plan.